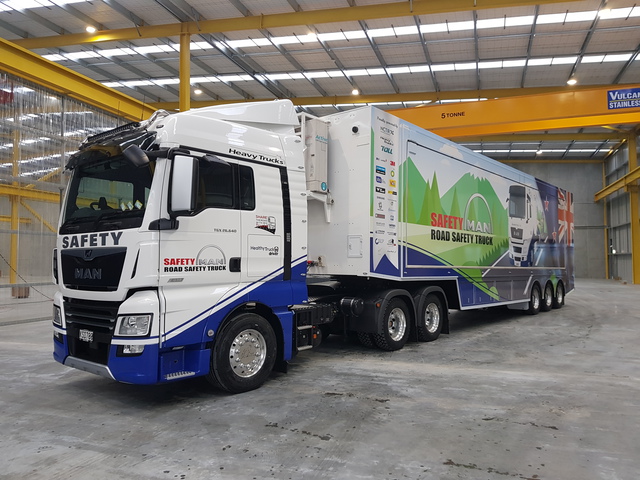 The Safety MAN Road Safety Truck will be driving between Picton and Christchurch over the next 6 months, via the alternative inland route. Transport companies that use the route, schools, community groups and Truckstops in the area will be invited to participate in these two safety programs.
BACKGROUND
Following the 7.8 magnitude Earthquake that struck Kaikoura last year, part of the SH1 route from Kaikoura to Picton closed due to extreme landslides and road damage.
The alternative inland highway is now the main route for all road users travelling between Picton and Christchurch. Transport operators, car users, camper vans, motorbikes and bicycles all need to safely share this road.
Unfortunately this route is not designed to accommodate such large traffic volumes and there have been numerous crashes.
NCTIR, along with industry associations and agencies have got together to action a rollover prevention plan for the alternate SH1 route. Part of the plan is to develop the Safety MAN Road Safety Truck & Trailer.

This mobile classroom will be targeting the users of the alternate SH route and delivering the Healthy Truck Driver and Share the Road with Big Trucks programmes. To prevent crashes we need to create awareness around better truck driver health and wellbeing and give tips to other road users about how to share the road safely with heavy vehicles. That's exactly what these programs will be doing. This website will take you through the journey of the Safety MAN and show you how, with invaluable help from industry sponsors, the Road Safety Truck was born. You can also